Keith Sisman Ramsey church of Christ Cambridge Peterborough England Pagan Heathen Orkney Scotland Unstan Cairn Stones of Stenness Tomb of Eagles excarnation Skara Brae Mine Howe Maes Howe Ring of Brodgar British Bible School Corby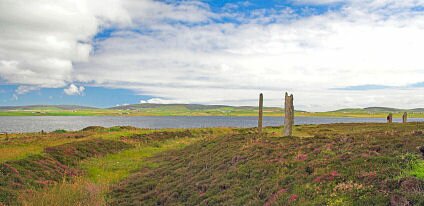 The secular historian and many cultists make much of the problem they have with stone circles, with their supposedly ancient ages lost in time past. It is rarely mentioned that where there is a stone circle there will also be burial mounds, for the same culture built both. Mounds are known to be recent and were still being used for burial in England into the 400s AD. When they ceased to be used for the practise of burying the rich and famous, the practise continued in church buildings which are also on holy, that is on dedicated ground. The mounds when used became holy places on holy ground and dedicated to the dead. These ancients worshiped their dead ancestors and practised necromancy (praying and talking to the dead), today it continues as saint worship. Catholic and Anglican church buildings are named after dead saints, are built on holy ground and under the floor lies deceased wealthy and famous people.
In fact the ancient ceremonies practised in the circles were finally stopped in about 1500 AD. This is far too recent for secular historians who claim that because they are "pre-historic" we can know nothing of the builders or their ceremonies, the same historians hiding behind their "dark ages" when nothing or little was they claim recorded or known about. Historians hide behind their "stone ages" and "bronze age" when really such were contemporary cultures and there never was a "dark age" . "Pre-history" is a convenience to hide from us that written accounts do exist of early mankind, and that these people originated recently as intelligent beings, not former tree dwellers!
Those ancient ceremonies practised inside the stone circles, which were earth temples associated with the Moon and Sun. These ceremonies continue today. The goddess Freya is remembered in Norse mythology, Freya is the goddess of love and fertility, and the most beautiful and propitious of the goddesses. She is the patron goddess of crops. Her day is Friday and is also remembered as the goddess of the East - Easter. Fertility festivals were practised in the circles at spring time, remembered today as Easter.
Different cultures in different ages is the excuse for the various types of stone circles, but are they right? In fact stone circles are remarkably similar, they have a outer bank of earth, and nearly always have burial mounds close by, as these pictures show. As Stonehenge is the most famous stone circle in the world, we will start there. The circle like others has its own burial mound, in fact there are many close by, and it also has an earth bank surrounding the stones. The picture below is taken from the south east, a view rarely seen possibly because of the mound which many historians would like to see moved!

Please click on the pictures below to see and learn more

Chambered burial cairn overlooking the Loch of Stenness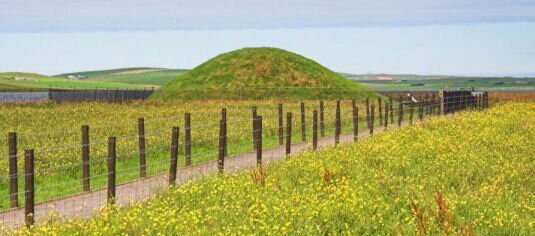 Stone Circle over looking the Loch of Stenness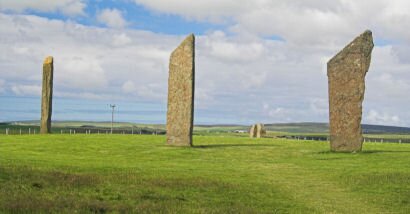 Chambered burial cairn overlooking the Loch of Stenness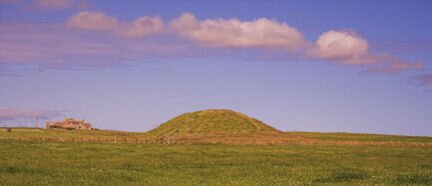 Stone Circle over looking the Loch of Stenness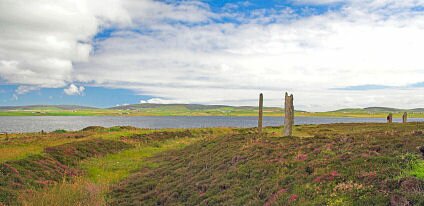 Chambered burial cairn on mainland Orkney


Ancient village settlement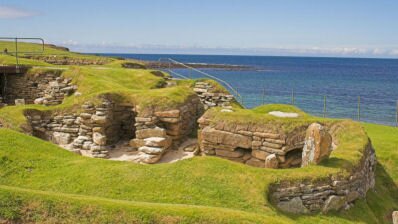 Excarnation chambered burial cairn on the Island of South Ronaldsay, Orkney