Keith Sisman Ramsey church of Christ, England - Traces of the Kingdom

The Bell Alley (Coleman Street) church of Christ, London.
The now forgotten tale of Thomas Lamb and the Bell Alley church
of Christ, and other earlier London congregations. But this should be remembered, because if we do not talk about the formations and people who contributed to the development of the doctrine, which you can read about on our website and prime-essay.net, then we will omit a large layer of our socio-cultural development.
1Co 2:5 That your faith should not stand in the wisdom of men, but in the power of God.

By trade Lamb was a "boiler of soap", he was the evangelist and one of two elders for the above congregation. He baptised many people for the remission of sins in the 'pool of London', part of the river Thames near Traitors Gate, The Tower of London. The other elder was Edward Barber.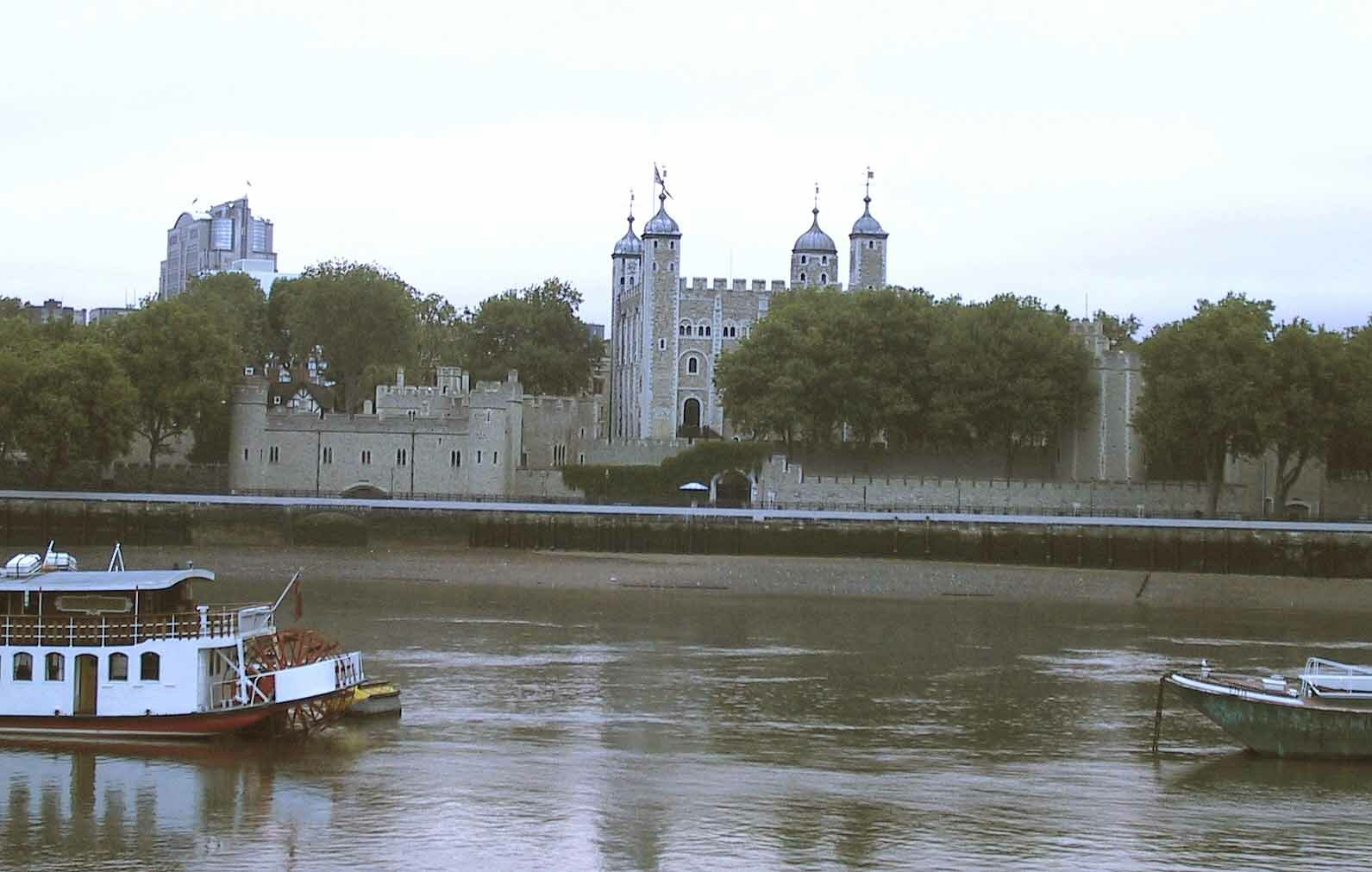 The first we hear of "heresy" in Coleman Street, is in the pre-reformation 1400 and 1500s, a small congregation made up of both working and profession classes (guilds), was then meeting in Coleman Street, London.
Later, there are more reports of "heresy" in Coleman Street, in the 1520s, when a leading figure amongst the Christian community, was John Hacker, known as 'old father Hacker', a waterbearer of Coleman Street and a convert of some years' standing. It would seem the Coleman Street church of Christ was pre-reformation which is dated to 1517. At this time as elsewhere in London, churches of Christ existed, and they were pre-reformation, and hence not a result of the reformation!
About 1520 John Hacker was caught distributing heretical books at Burford and in 1521, being then also involved with some Christians from Buckinghamshire, was compelled to abjure by the authorities of the diocese of Lincoln, under torture. Associated with him, and more prominent in the subsequent years, were John Stacey, also of Coleman Street, and Lawrence Maxwell, of Aldermanbury parish close by. These two were prominent members of the Tilers' and Bricklayers' Company and had wide contacts both inside and outside London. Stacey kept a man in his house 'to write the Apocalypse in English', the costs being met by John Sercot, a grocer.
Coleman Street, itself, though within a few yards of Guildhall, was in fact destined to become for many years the centre of various 'heretical sects'. Hacker's group had close connections with Christians in Colchester and of Buckinghamshire but its ultimate importance lay in the fact that it provided a ready-made organisation to promote the bible book-trade of the late twenties.
Another of Hacker's disciples was the leather-merchant John Tewkesbury, whom Bishop Tunstall persuaded to recant, but who went on to promote Tyndale's book The Wicked Mammon, copies of which he proceeded to sell to others. Robert Necton, another Londoner who sold imported books in and around London, also had previous connections with the Lollards accused before Bishop Longland of Lincoln in 1521. By the mid-twenties the situation in the London diocese had become so notorious that Tunstall and his successor Stokesley were forced to attempt an extensive purge. Between 1527 and 1532 more than 200 heretics are alleged by Foxe to have abjured after conviction in the diocesan courts. Of these people about half came from the city and half from Colchester, Steeple Bumpstead, Birdbrook and other places in Essex.
Now to Thomas Lamb, who was born in Colchester, a city in southeast England, being named after the ancient king – Cole, of nursery rhyme fame.

We are fortunate to know a little about Lamb and his family. Lamb was arrested at Colchester and brought to London to appear before the courts of the Star Chamber, his wife speaking on his, and their eight children's behalf. The Anglican Archbishop Laud quickly resolved the defence brought by Lamb's wife, by having "the troublesome woman" removed! This was the first of his three known jail sentences for his preaching. The Bell Alley congregation was also known as the church of Christ, London or The Coleman Street church of Christ, being a few minutes walk north from St. Paul's Church (Cathedral), depending on which history is researched.
Lamb was arrested and cast in jail, he was released on bail on 25 June, 1640 with the injunction "not to preach, baptise or frequent any conventicle" (unlawful church assembly). About October 15, of the same year, Lamb was in Gloucestershire preaching and baptising his converts. Here he was opposed by the Rev. Wynell. It was from this Church of England congregation in about 1639 that Richard Baxter became acquainted with the Lord's Church. As a result of the controversy Baxter was sent to London to learn from Lamb. Lamb came to the west country and baptized many converts in the River Severn. He brought with him Clement Writer, who was also a preacher. Wynell says Lamb held his services in a private house "and by preaching there he subverted many, and shortly afterwards in an extreme cold, and frosty time, in the night season, diverse men and women were rebaptized in the great River Severn, in the City of Gloucester." These baptisms were in the early winter of 1640. During 1645 after the publishing of an 'ordinance of Parliament' against un-ordained preachers the Lord-mayor sent his officers to arrest Lamb. The congregation were furious that the authorities should break up their gathering on the Lord's day, some used some very rough language, to which Lamb brought the affair to an amicable end by agreeing to appear before the Lord-mayor at six o-clock. The officers accepted this, and Lamb and an assistant went to his lordship's house at the appointed time. Lamb argued they had broken no law for they were under the law of Christ. This was rejected and they were handed over to a committee of Parliament, who after hearing them committed both men to jail. At length, by the intercession of the brethren they were realised and found their liberty. Once when Lamb was out evangelising in Somerset, in the village of Oldford (Nr Frome), he baptised a lady in the river, which the church there frequently used for the purpose of baptising. The husband of the lady, a man greatly opposed to the church took a "great stone", concealing it under his coat, the purpose to do a great mischief to Thomas Lamb. As baptising believers was illegal, the husband stood little risk of prosecution, even if a serious injury was to result. As Lamb stood with the lady in the river, praying, speaking and preparing to immerse her, the husband was so overtook with emotion, hearing the gospel, was baptised after her. Lamb was greatly opposed to the newly forming 'Calvinistic Churches of Christ' and their scheme of 'particular' redemption. He was one of the few brethren who withstood this new apostate movement. He wrote a pamphlet in 1642 in-titled "A treatife of particular predeftination, wherein are anfwered, three letters, the firft, tending to difprove particular predeftination : the second, to shew the contradiction betwix Chrift's dying for all, and God's election of fome : the third, to prove, that the soul doth not come from the parent, and confequently that there is no original fin. He set out and showed how that redemption is limited, though the offer of salvation is universal, thus he denied universalism and limited atonement.

Lamb brought to the attention of the brotherhood of encroachment Calvinism into the Lord's church, in pamphlets in 1642. This happened after John Spilsbury and other were ejected from the Church of England. Spilsbury and his compatriots were Calvinists and independents. By about 1638 they had rejected infant baptism and were sprinkling believers. When they came into contact with the Lord's people they learnt of immersion as the correct mode (1641), and also the identity of the church, which they adopted by 1645. By this date there were meeting in London seven congregations and one French congregation of this new Calvinistic persuasion. Thomas Lamb baptised Henry Denne (1643), who also wrote against this new innovation in the Lord's church, in a leaflet; The drag-net of the kingdom of Heaven; or Christ's drawing all men, 1646. Despite these efforts through debate, leaflets and preaching, Calvinism was taken onboard by most the churches of Christ at this time. These apostate churches of Christ with their Calvinism retained for a awhile the Biblical identity 'church of Christ' and baptised for the remission of sins. They rejected for some time the idea a person could be saved outside of baptism. By the 1660s they slowly started to reject the biblical name calling themselves first "Baptised Churches" and later "Baptist Churches".. Thus a new denomination was born, despite all the preaching and warnings. Some churches rejected Calvinism, but became Quaker. Others adopted universalism, others became members of the "General Baptists".. A few, particularly in the North West of England retained the faith and at least one survived to join in fellowship with the American Churches of Christ in the 1840s. Later in life Thomas Lamb was made a chaplain in the army of Oliver Cromwell, he died about 1672. About the year 1630, Thomas Lamb and his wife had a son who they named Isaac, he followed his father and assisted him in Cromwell's army, soon after Issaac was made chaplain of the 'Conftant Warwick', a British man-o-war at 16 years of age. He often preached before Admiral Blake, and on one occasion before both Admiral Pen and Blake. He baptised six of the ship's men in the sea on various occasions. The ship in which he sailed was part of the fleet that picked up king Charles 2 in the year 1660, he soon afterwards was stripped of his duty as ship's chaplain. He become a preacher at Eastsmithfield (London) and often preached before three hundred people. On one occasion he was told by the authorities to shop preaching, to which he replied "Whether it be right in the fight of God, to hearken unto you more than unto God, judge ye." At this short rebuff the authorities left without any more interruption. On another occasion seven Justices of the Peace, including Sir William Smith, Brown and Bury arrived in their coaches on the Lord's day, accompanied with a posse of people. They came prepared to break up the church fixtures, seating, pulpit etc. Lamb having been previously warned of this had the items removed.. The posse was greatly disappointed, to which one of then justices exclaimed "his name ought to have been Fox, and not Lamb". He died on August 20 1691, of which the historian Crosby notes he was "a man of fweet temper, exemplary converfasion, and great ufefulnefs".
We learn the following from Ivimey who took this account from Dr. Some in 1589, "There were several Anabaptistical conventicles (congregations) in London and other places." It seems then that Christians had at this early period formed distinct churches, both in London, and in different parts of the country. Dr. Some adds, "Some persons of these sentiments have been bred at our universities." That is to say, these Christians had pursued their principles to their legitimate consequences, and had rejected infant baptism, with the other ceremonies of the church. The doctor, to expose these Christians, relates a story of one whom he calls T.L., "who at a conventicle in London took upon him to expound the scriptures, conceive long prayers on a sudden, and to excommunicate two persons who were formerly of that brotherhood, but had now left them." Who this T.L. was we know not; but it clearly appears that he was the preacher of the church, and that in their name, he declared that some persons who had left them were no longer of their communion. His explaining the scriptures and praying without the use of a form as commanded by the Lord, as opposed to the repetitive prayers of the Anglican Church, contrary to scripture. Is this "TL" Thomas Lamb? It seems far to early but could it be his father? That Thomas Lamb came from Colchester is not a problem, in that part of Essex churches of Christ had existed for some time, and would during persecution had been an ideal place to flee from London.
In Bow Lane, in 1727, a congregation still met whose preacher was Thomas Lamb, could this preacher be a descendent of the Thomas lamb mentioned above?
Going back to the year 1525 we know of an Alice Grevill, who had been a Christian for twenty-eight years, was condemned to death. Simon Fish and James Bainham, in the year 1525, belonged to a congregation, located in Bow Lane, London. Fish we are told was a theologian and a pamphleteer. He was educated in Oxford, came to London and entered Gray's Inn (the legal profession), in about 1525. He was denounced as a damnable heretic, and in 1531 he died of a plague. His wife, who was suspected of heresy, married Bainham, who was burnt for heresy in 1532. He was a lawyer of high character and Burnet says "that for true generosity, he was an example to the age in which he lived." This is truly a remarkable testimony coming as it does from a bishop of the Church of England. Under examination he said that "the truth of the holy Scriptures was never these eight hundred years past so plainly and expressly declared to the people as, it had been within these six years." He demanded that only believers should be baptized in this church (Fox, Book of Martyrs, vII). There was then an organized church of Christ, in London, holding to the practice of believers' immersion in the year 1525. Bainham died a triumphant death, at the stake, April 20, 1532, at Smithfield as noted on the previous Bow-Lane web page..
During an earlier persecution Simon Fish was compelled to flee beyond the seas to Holland and while there he translated the old Anabaptist book by Henricus Bomelius, The Sum of the Holy Scripture and A supplication for the beggars. This old Dutch book demanded the immersion of the believer and denied infant baptism. It was printed in England in 1529 by Fish. There were editions of the book printed in England in 1547, 1548 and 1550.
In 1593 a law was passed that all persons over eighteen years of age must attend the State Church, The Church of England. This law would cause much suffering, persecution and deaths.
Anglican clergyman, Dr Daniel Featly, wrote in about 1644 of the congregations meeting in London and possibly elsewhere where he calls the rebaptizing of adults "a new leaven," and that their position "is soured with it." Featly takes these congregations back to 1525 when he quotes from them "That baptism ought to be received by none, but such as can give a good account of their faith; and in case any have been baptized in their infancy, that they ought to he rebaptized after they come to years of discretion, before they are to be admitted to the church of Christ".
Featly declares there were members of the church of Christ, in London, that they had existed in England during the reigns of Henry VIII, Edward VI, James I! These congregations existed separately from the Church of England and dismissed infant baptism, baptising those who could giver an account. Elsewhere Featly confirmed these congregations immersed for the remission of sins (Dippers Dipt), and used the identity - 'church of Christ'.
In about 1640, at Bristol, a preacher, John Cann, stated that "many thousands in England that doe not hold communion with others, though they doe owne and practise believers' baptism, because they hold with it free-will and falling from grace".
Below, looking north from a few minutes walk from Bow Lane is modern day Coleman Street, most of the original buildings were destroyed in the Great Fire of London (1666) and the Blitz in 1940. Belly Alley was to the right looking down the road just before the light coloured building. The second picture is Great Bell Alley, looking towards Coleman Street.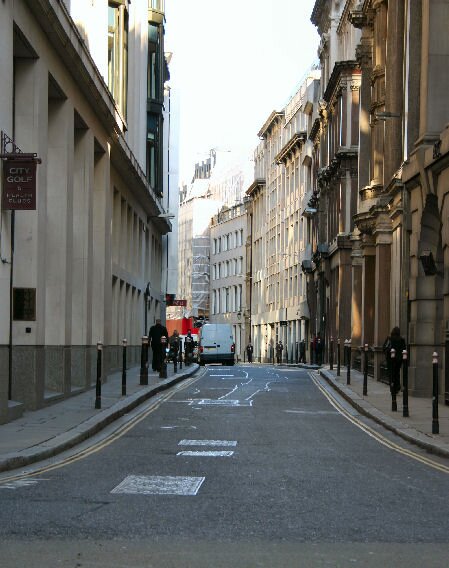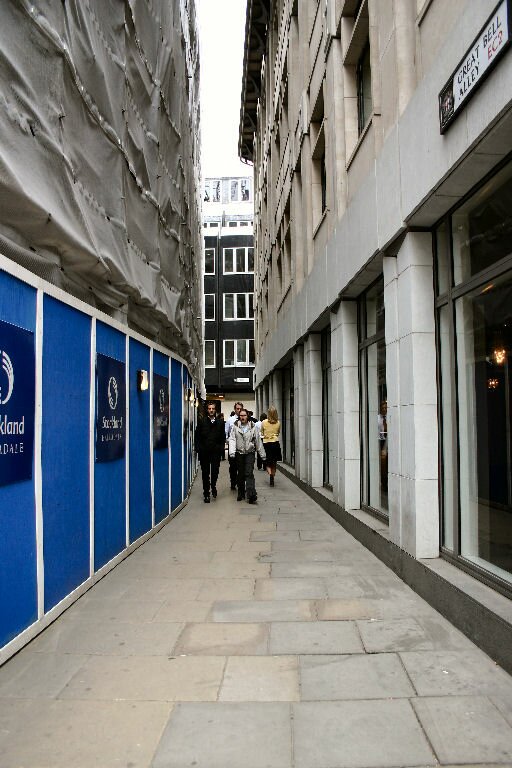 Next - A letter from a Christian, dated, May 10, 1622