John Bunyan (November 28, 1628 – August 31, 1688), a Christian writer and preacher for the Bedford church of Christ, was born at Harrowden (one mile south-east of Bedford), in the Parish of Elstow, England. He wrote 'The Pilgrim's Progress', arguably the most famous published Christian allegory. For some strange reason the Church of England, who imprisoned him for twelve years, Bunyan is remembered with a Lesser Festival on 30 August. Bunyan who preached against popish idolatry and worship of saints was given his own saints day! John Bunyan died, 60 years old, a year before William III came to the throne in 1689 and granted religious toleration to the 'Dissenters'.
Bunyan had clashed with Henry Denne, being to the left doctrinally to Denne. The church at Bedford became in time both liberal and infected with Calvinism. By trade Bunyan was a tinker, a trade of low regard. When visiting Bedford, a short distance from Elstow, he heard of the "new Birth" after hearing some ladies talking of sin. Some time later he was baptised, by immersion, in the River Great Ouse in 1653. In 1655 he became a deacon at the Bedford church of Christ and also began preaching. Bunyan to his credit opposed the new sect called Quakers, as did Henry Denne. In time the church at Bedford received into fellowship those baptised as infants and later, the church became congregational practising infant baptism. John Bunyan was not a Baptist and the church he was a member was not a Baptist church, but a church of Christ which in time fell into apostasy.
Before his final release from prison Bunyan became involved in a controversy with two theologians of his day: Kiffin and Paul. In 1673 he published his 'Differences in Judgement about Water-Baptism no Bar to Communion', in which he took the ground that "the Church of Christ hath not warrant to keep out of the communion the Christian that is discovered to be a visible saint of the word, the Christian that walketh according to his own light with God." While he agreed that water baptism was God's ordinance, he refused to make "an idol of it," and he disagreed with those who would dis-fellowship those who did not adhere to water baptism.
Bunyan also clashed with Henry Denne and later his son, John Denne over baptism.
There was though an occasion when Henry Denne came to the defence of John Bunyan. At this time Bunyan was a strong advocate of believers baptism. John Bunyan because he had never been ordained in the Church of England earned the derogatory nickname the "Tinker", due to his trade.
In May 1659 John Bunyan preached in the tithe barn (near the village green) of his friend Daniel Angier at Toft, near Cambridge. Known as the "tinker", Bunyan's "holy orders" and hence his right to preach were always being questioned. Thus when Thomas Smith (the Keeper of the University Library, Cambridge), "attracted by the sound of devotion" walked in on the service towards the end of the sermon there was bound to be trouble. Bunyan was preaching from 1 Tim. 4:16 and was actually stating that he knew most of his audience who were Anglicans were actually "unbelievers". When the preaching ended, Smith approached Bunyan and asked him what right he had to call the people of Toft "unbelievers" (half of whose faces Bunyan had never seen before).
Smith claimed that Bunyan was being uncharitable and as such was unfit to preach. Bunyan replied that when Christ preached from a ship to his hearers on the shore, he taught that there were four kinds of ground onto which the good seed of the sower fell and that only one of the four brought forth fruit. "Your position", said Bunyan, "is that he in effect condemneth the greater part of his hearers hath no charity, and is therefore not fit to preach the gospel." At this Daniel Angier rose to defend Bunyan and rebuke Smith, but Smith denied the layman's right to preach and asked Bunyan how he could answer the apostle's question "How shall they preach except they be sent?" Bunyan replied that the Church at Bedford had sent him, to whom Smith responded that the Church at Bedford, since they were only lay people, could not give the tinker that which they had not themselves.
Within a few weeks Smith had written and published a pamphlet entitled "A Letter to Mr. E of Taft (Toft) Four miles from Cambridge!. To which No Answer hath been returned". Mr E. is presumed to refer to Mr John Ellis Junior, son of John Ellis, the Anglican minister of Toft. The pamphlet begins:
Sir,
1. Since you had not so much patience as to hear me t'other day, nor would suffer your daughters to tarry, I now make use of my first hour of leisure to write to you part of that which you might have heard me speak then; Hoping that you and they (whom I look on as having more breeding than any other, his Auditors that I saw) will not believe this, whom his Friends generally call the Tinker, upon his bare word, but like those noble Bereans, Acts 17.11 with readiness of mind search the Scripture whether those things were so.
2. I guess at the breeding of most of his followers by this passage; one of them, viz. Daniel Angier (who invites him to that Town, entertains him in his house, lends him his barn for a meeting place) when I charged him in that place with maintaining that God was body, (viz. that he had hands, feet, a face, &c. Like one of us) saying that he contradicted me in my Churchyard, after I had preached people when he saw his Ring-Leader T. would not defend it, that I lyed; whereas my whole Parish are ready to witness the truth of what I said.
3. But to the purpose, I shall in this paper follow that method which the T. commanded me (though I desire the contrary) shewing first his false doctrine and then prove 'tis a dangerous sin in him to preach (as he did publickly) and in the people to hear him...
All this your tinker hath been guilty of, and much more, for he hath intruded into the pulpits in these parts, and caused the people of your town to hate their lawful minister, but (as he told me) encouraged them to proceed as far as to cudgel him and break open the church doors by violence...
Smith concludes:
And now, sir, let me beseech you for God's sake, for Christ's sake, for the Church's sake, for your reputation's sake, for your children's sake, for your country's sake to consider these things sadly and seriously, not to think a thinker more infallible than the pure Spouse of Christ, and to foresee what will be the sad consequences both to the souls, and bodies, and estates of you and your children in following such strangers.
The pamphlet is written from "Caucat" (i.e. Caldecote) and dated May (1659). Caldecote is less than two miles from Toft.
Bunyan himself does not seem to have replied to this pamphlet, but there was a response from Henry Denne, who was a friend of Smith. Having known him at Cambridge University. For in a work known as The Quaker No Papist (London: Francis Smith, 1659) Denne wrote:
"You seem to be angry with the tinker because he strives to mend souls as well as kettles and pans. The main drift of your letter is to prove that none may preach except they be sent. Sir, I think him unworthy of the name of a tinker that affirms that any one is sufficient to preach the gospel without sending. By your confession the tinker thinks otherwise, and doth not deny what you labour to prove, and so you contend with a shadow. He proves his mission and commission from the Church at Bedford, you should also have proved that Mr. Thomas Smith hath a better commission from some other Church than the tinker either hath or can have from the Church at Bedford. You must give me leave to propound something for your consideration: Some shipwrackt men, swimming to an island, find there many inhabitants, to whom they preach; the heathen hearing are converted, and walk together in love, praising the Lord; whether the preaching of these shipwrackt men were a sin? Secondly whether it be not lawful for this congregation to chuse to themselves pastors, governours, teachers, &c. ? Thirdly, whether this congregation may not find some fitting men full of faith and the Holy Ghost to preach to other unbelieving heathen?"
Two views of the jail.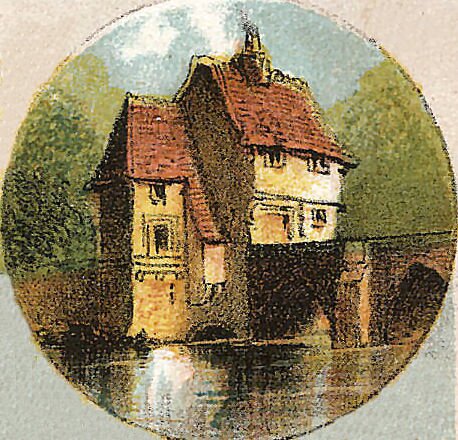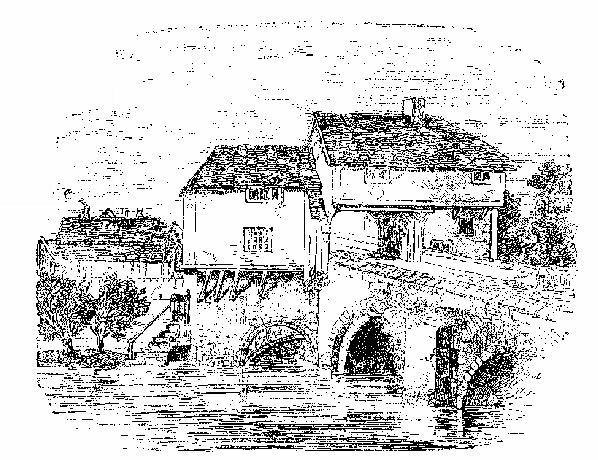 The jail at Bedford which was built on a bridge over the river Great Ouse, the same river Bunyan was immersed in. It was from the jail Bunyan wrote Pilgrim's Progress. A new bridge was built in 1813.
John Bunyan's cottage at Elstow, a mile or so from Bedford.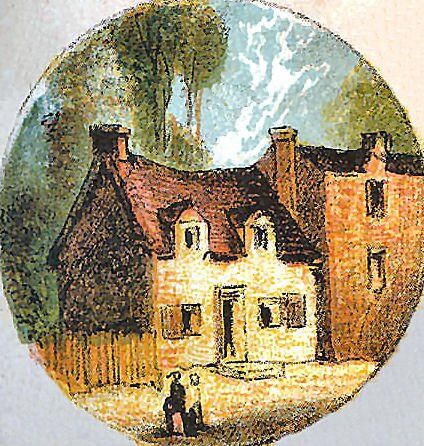 In 1643 Benjamin Cox, a Church of England's Bishop's Son, and preacher of the church of Christ at Bedford, was sent to jail for preaching against infant baptism at Coventry after a debate with the Presbyterians. Who won the debate we do not know, but the Presbyterians having initially encouraged the debate called for the constabulary and had Benjamin Cox arrested, which finished the debate! He was ordered to leave Coventry, he refused to go, and was promptly sent to jail but he was released shortly afterwards. It was this church that later John Bunyan would become the preacher.
Today the church at Bedford is a Free Church, and is named after Bunyan - 'Bunyan Meeting Free Church'. The original church was named after Christ - The church of Christ, Rom 16:16.